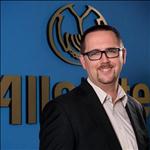 Danny Day
Agency Owner
Making the move to Allstate has been the greatest decision of my career! The Allstate Family has been fantastic and the customers are even better. It has been such a rewarding experience for me. I grew up in the great outdoors o
Making the move to Allstate has been the greatest decision of my career! The Allstate Family has been fantastic and the customers are even better. It has been such a rewarding experience for me.

I grew up in the great outdoors of California. I lived on the lake and played in the mud. My Dad really taught me the value of being not only a good man but a great person. Being a Polite, Respectful and loving person is something I owe to my Mom.

Family is super important to me and anyone that is around us for long quickly realizes that! That magic that drives us everyday is the great things we can do for the families Allstate protects in our community. We with help with so much more than just an insurance policy and that is what motivates us everyday.

You will feel appreciated at the Danny Day Agency. The customers are very important to us and we love to show it! The Customer Appreciation events are absolutely amazing and getting better every year.

So come join the Allstate Family Today!