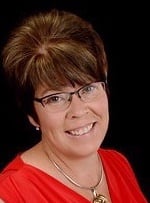 Ronda Van Wyhe
Licensed Sales Professional
I recently married to Harlan Van Wyhe. I have 3 children and a daughter in law. I am very excited to announce that my 1st grandchild is due in April 2019. Harlan has three daughters, which are all married and brings 11 grandchild
I recently married to Harlan Van Wyhe. I have 3 children and a daughter in law. I am very excited to announce that my 1st grandchild is due in April 2019. Harlan has three daughters, which are all married and brings 11 grandchildren to our combined family. I graduated with my Associates Degree in Business from Ashford University in May 2015. My hobbies include photography, digital scrapbooking, camping, socializing and meeting new people, racing, and vacationing.

We reside in Sully, IA. I look forward to growing my Allstate business in Pella, Oskaloosa, New Sharon, Grinnell, Newton, Sully, and the surrounding areas. I have about 7 years of Insurance experience building relationships and servicing customers. I am excited about being an Allstate Agent so that I can offer customers options for a wide variety of coverage and services. You can depend on me to help you look at the big picture. I look forward to getting to know you and helping you to find the solutions that meet your needs.

I am committed to helping Sully and surrounding residents' asses their immediate and long-term needs and choose options that will help them achieve their goals. When you want to explore options for protecting your home, auto, personal property, or financial future, I am available to answer your questions. If you're already a customer, I'm ready to review your coverages so that you can make any necessary adjustments to fit your changing needs. Call me today!