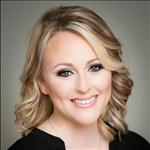 Laney Ortiz
Sales Manager
Laney Ortiz, a seasoned professional since 2010 in the insurance industry, serves as a licensed Sales Manager at Heidi Rowan's Office. Her dedicated service has made her an invaluable member of the team since 2013, focusing on a w
Laney Ortiz, a seasoned professional since 2010 in the insurance industry, serves as a licensed Sales Manager at Heidi Rowan's Office. Her dedicated service has made her an invaluable member of the team since 2013, focusing on a wide range of insurance offerings, including Auto insurance, Property insurance, Motorcycle insurance, Recreational vehicle insurance, and Life insurance.

For Laney, the most rewarding aspect of her role is simplifying the insurance shopping process for customers. She takes pride in helping customers find the right protection options for their unique needs. Her commitment to making insurance decisions easy for customers is at the core of her professional journey.

Beyond her professional life, Laney has a multifaceted range of interests. She possesses a talent for singing, allowing her to express herself through music. Additionally, she has a deep affection for thriller books, diving into the suspenseful worlds created by talented authors.

Laney Ortiz's journey in the insurance industry is marked by her dedication to simplifying the insurance process and her commitment to finding the best insurance options for customers.