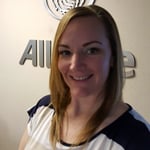 Katie Dionne
Office Manager
I've worked with Tyler Johnson since 2001 when he took over his father's business. I was born in Walnut Creek and grew up in Concord. I have had my insurance license since I was 19 and recently obtained my Life & Health license
I've worked with Tyler Johnson since 2001 when he took over his father's business.

I was born in Walnut Creek and grew up in Concord. I have had my insurance license since I was 19 and recently obtained my Life & Health license.

It excites me to be working with families in our community who are just like my own. I'm really passionate about animals. When not working, you can find me with friends or taking long walks with my dogs. I work out regularly and participate every year in the Avon walk for breast cancer.