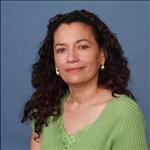 Luisa Bascope
Licensed Agent
Luisa Bascope is a dedicated member of the Eric Burke Allstate Insurance Agency, located in Fairfax, VA. With a wealth of experience in the industry, she has been an integral part of the agency's team since August 1993, specializi
Luisa Bascope is a dedicated member of the Eric Burke Allstate Insurance Agency, located in Fairfax, VA. With a wealth of experience in the industry, she has been an integral part of the agency's team since August 1993, specializing in Auto and Home Insurance as a licensed agent.

Luisa takes great pride in her ability to deliver excellent customer service, making it her favorite aspect of her job. She finds satisfaction in assisting customers, helping reach their insurance needs with efficiency and professionalism. With almost 30 years of experience as a licensed agent, Luisa possesses a deep understanding of the intricacies of the insurance field, allowing her to provide valuable insights and information to customers.

Outside of her professional endeavors, Luisa indulges in a variety of hobbies. She has a passion for dancing, finding joy and self-expression in movement. In her leisure time, she can often be found engaged in a captivating book, immersing herself in different narratives and expanding her knowledge. Additionally, Luisa is an exceptional cook, and her specialty is the flavorful and vibrant dish of Paella.

Luisa's commitment to her work, coupled with her diverse interests and talents, make her an exceptional member of the Eric Burke Allstate Insurance Agency. Her dedication to providing excellent service and her wealth of experience have undoubtedly made a positive impact on customers throughout her esteemed career.