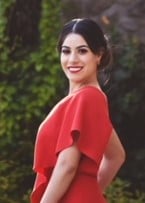 Julliana Fuentes
Customer Service Representative
I have worked in the insurance industry since 2012, and joined Mark Jameson's Cleburne office in 2019. I really enjoy helping and assisting customers find the right protection for them and their loved ones. It is very satisfying t
I have worked in the insurance industry since 2012, and joined Mark Jameson's Cleburne office in 2019. I really enjoy helping and assisting customers find the right protection for them and their loved ones. It is very satisfying to know that I'm helping customers and making their lives easier.

I am the 7th child of eight kids, and have about 20 nephews. I love the fact that I have a big family, and our gatherings are always a big celebration. I have a dog, who I view as my child; her name is Blanca.

I was born in Mexico and raised in Texas. I have lived in Fort Worth for over 20 years. Therefore, I can help my beautiful Spanish speaking community. One of the most rewarding things about my job, is that I can rest at night in peace knowing that I helped a family. My goal is to help customers with their auto, home, and life insurance needs with integrity and honesty. I look forward to meeting you!